1183 Logan Station Rd Shelbyville KY 40065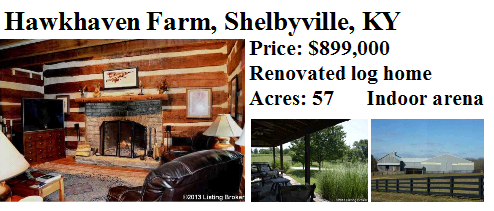 SELLERS!
Considering selling your farm? Have land for sale? or equestrian property? Want to know what your land or farm is worth - or how you would compare to the other properties currently on the market?
For Louisville, please select:
What's My Louisville Farm Worth?
For Lexington, please select: What's My Lexington Farm Worth?
Fill out the requested information and I will use comparable sold listings to help you calculate the fair market value of your horse farm.
BUYERS!
Tired of manually searching horse properties for sale?
We provide 2 easy solutions for you:
SAVE YOUR SEARCHES! Simply REGISTER, and you will be able to save your searches and favorite properties. After registration, LOGIN to your account - its that easy!
AUTOMATIC EMAIL UPDATES! You will be automatically emailed any NEW farms that come on the market that meet your search criteria.
To take advantage of these easy to use features, please select: Louisville Farm Finder or Lexington Farm Finder.
Its just that easy! It doesn't matter if you are a new horse enthusiast, or an experienced full time equine professional, Jennifer can help you find YOUR ideal horse property today!
Jennifer's Bio:
My childhood was filled with dreams of horses and horse farms. On my 10th birthday I got my first riding lesson and I was hooked! Throughout my teens I experimented with different disciplines of riding, from barrel racing to western pleasure to english equitation to hunter/jumpers. During that time, I supported my riding habit by working at a Saddlebred breeding farm. As with most people, life got in the way of my riding and I took an 8 year hiatus to go to college, get married and start my real estate career. Once established, I immediately returned to my passion. I became involved in eventing and purchased a Thoroughbred that didn't make it on the track, named 'Walker'. We've had a great time ever since. Walker and I primarily focus on dressage now. Since then two additional Thoroughbreds have come into my life 'Bruce' (off track) and 'Murphy' (an ex-event horse). Life is great as long as you are pursuing your dreams.
This is my dream come true - combining the career that I love with my heart's passion. Let us enjoy the path to your new horse farm together!
Please read more About Us and the services that we provide.
Have a look around, and contact us with any questions you have about the Louisville & Lexington Kentucky real estate market, or our services. No question is too mundane - we want to help!
Louisville Farms For Sale
Want to search for Louisville Kentucky horse farms for sale? Our service area for metro Louisville farms, ranches & land includes the following Counties and Cities:
Jefferson County: Louisville, Anchorage, Prospect, Middletown, Eastwood, Jeffersontown, Fisherville
Oldham County: Goshen, LaGrange, Crestwood, Pewee Valley, Buckner, Centerfield, Skylight, Ballardsville, Centerfield
Shelby County: Shelbyville, Simpsonville, Finchville, Southville, Cropper, Christianburg, Waddy, Bagdad, Mt Eden
Henry County: New Castle, Smithfield, Eminence, Campbellsburg, Sligo, Pendleton, Sulphur, Pleasureville, Bethlehem, Westport
Spencer County: Taylorsville, Elk Creek
And the following Equestrian Communities:
Majestic Oaks Equestrian Community - This is a Gated Equestrian Community located in Simpsonville KY.
L'Esprit - Large equestrian community located in LaGrange KY.
Equestrian Lakes - Estate equestrian community located in Finchville KY.
Lexington Farms For Sale
Want to search for Lexington Kentucky horse farms for sale? Our service area for metro Lexington farms, ranches & land includes the following Counties and Cities:
Fayette County: Lexington, Yarnallton
Woodford County: Versailles, Midway, Pisgah, Nonesuch, Mortonsville
Bourbon County: Paris, Clintonville, Centerville
Jessamine County: Nicholasville, Wilmore, Keene, Dixon Town
Franklin County: Frankfort, Bridgeport, Farmdale
Boyle County: Danville, Perryville
Scott County: Georgetown, New Zion, Great Crossing, Sadieville, Newtown
Anderson County: Lawrenceburg, Alton
Call the Kentucky horse farms specialists today!
1-866-353-6353